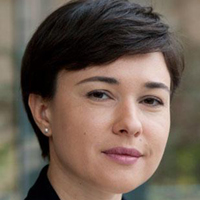 Dina Petranovic has a background in molecular biology from Zagreb University (1994-1999, Croatia), PhD in molecular microbiology from Paris University XI (2000-2004, France), two postdocs from Danish Technical University (2004-2007, Denmark) in microbial genetics and microbial biotechnology and sabbatical from Lindquist Lab at MIT (2012, USA). Dina has been an assistant (2008-2012) and then associate professor (since 2012) at Chalmers University of Technology, in Göteborg, Sweden.
Dina used to work with G+ bacteria and signal transduction mediated by phosphorelay (PTS) and protein-phosphorylation. Since 2007 she has been focusing on yeast Saccharomyces cerevisiae and how to use it to study proteostasis management. Her interest is to figure out how and why expression of some proteins that are not inherently toxic can damage the cell, and what is the fate of the cell in such circumstances. The proteins that she is interested in can have different origin and applications, for example she uses a fungal industrial enzyme (α-amylase) to study how secreting a large protein induces stress in the secretory pathway and how that influences the cell stress responses and eventually cell fate. She also uses other proteins, for example human insulin precursor, human globin proteins (hemoglobin, myoglobin, neuroglobin), human amyloid-β peptide (involved in Alzheimer's disease) and human mutant ubiquitin. This approach is helping to learn about the fundamental roles of these proteins in vivo, the cell stress responses and additionally find engineering targets to use the yeast cell as a factory for production of proteins.
In her work Dina uses molecular and cell biology tools and approaches, microscopy, physiological characterizations, omics analyses, modeling and bioinformatics.
For more information please visit www.sysbio.se .